Winter hibernation is the quickest path to gain weight and a case of the seasonal blues. Don't let the frosty weather take a bite out of your workout. Resolve to stay active with these tips and learn how to stay healthy during the holidays.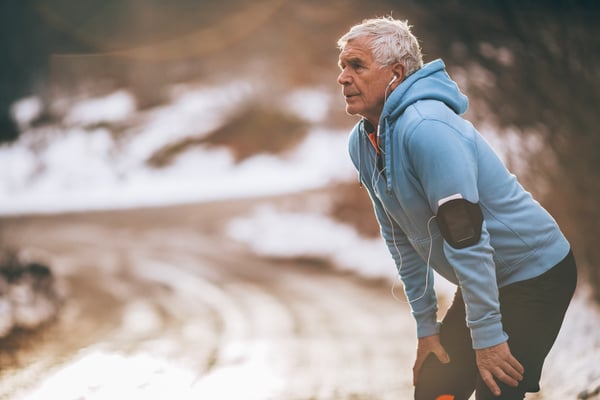 1. Get Some Fresh Air
Did you know that cold weather exercise actually helps you burn more calories? If you bundle up in layers and stay hydrated, working out in moderate winter temperatures is a healthy option. Try taking a walk outside for 30 minutes three to four days a week to increase your metabolism.
2. Relive Your Childhood
The winter weather gives us plenty of playful outdoor options. Take advantage of a rare snow day by building a snowman or walking in the snow. Go ice skating at one of the local skating rinks. Or hit the slopes for an afternoon of skiing or snowboarding.
3. Dress for the Occasion
Avoid cotton as your base layer. It retains moisture, which can actually make you colder. Invest in your workout success by purchasing a shirt made of sweat-wicking material. Be sure to cover your extremities; your nose and fingers are the first to freeze.
4. Go on a Walking Spree
If the weather outside is just too frightful for an outdoor walk, use your nearest mall as an indoor walking trail. Most local malls open early just for this reason, and many have distance measurements posted.
5. Snow Days can still Pay
If you are housebound due to the weather or time, don't count out exercise. If you have stairs in your house, become a stair master. Run or walk up and down the stairs for three minutes. Rest for one minute and repeat. You can use weights during the break. If stairs are not an option for you, there are plenty of free online exercise videos available. A certified personal trainer can also help you design a personalized home-based workout program in just a session or two.
6. Not the Routine Treatment
If you prefer to stay indoors, the treadmill and weight room are always options. However, a new challenge at the gym will help keep you engaged. Try a new class, such as yoga or dance. There is no reason to be intimidated; join a gym with class options meant for your age or ability. No matter what your experience level, your class instructor should be able to provide modifications to help you get the most out of each class and reduce the chance of injury.
7. Occupied is not an Option
You are never too busy to burn a few extra calories. Park as far away as you can from store entrances. Take the stairs rather than the elevator. If possible, make biking or walking to work or to run errands a regular part of your routine.
8. Stay Accountable to Stay Effective
Exercise is usually more successful for those who use the buddy system. Ask a friend to be your walking or gym buddy. Regular visits with a trainer can also keep you motivated. If you prefer to workout solo, there are plenty of smart phone apps and websites to help you track your workouts and encourage you along the way.
9. Don't Wait Until Spring to Get Your Exercise Routine in Check
Start the year with a resolution to stay active year-round. Even a small dose of regular exercise can reduce your risk of heart disease and increase your mood. But remember, if you are new to exercise, it is smart to talk to your doctor before beginning a new routine.
Erika Smith is the Fitness Coordinator at The Lifestyle Center. She earned her bachelor's of science degree in Health Promotion from Lynchburg College and her personal trainer certification through the American Fitness and Aerobics Association.