Excited but overwhelmed?
Having a baby is one of life's most exciting and overwhelming experiences. It is no wonder that new parents have many questions.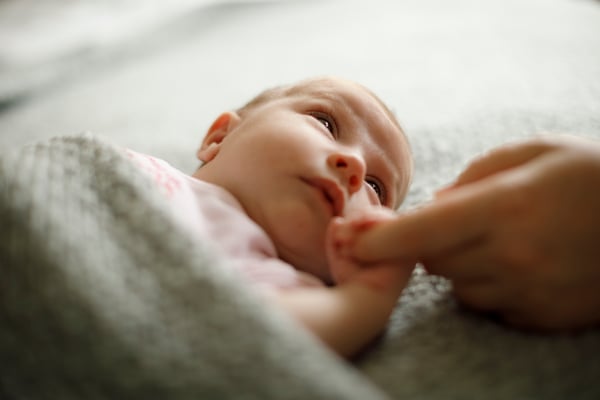 Will my baby ever sleep through the night?
You can expect that your newborn will sleep for most of the day for the first few weeks, only waking (or needing to be woken up) every few hours to be fed. This can be concerning for new parents when they aren't sure if baby is sleeping too much or if they "have their days and nights confused." Eventually, as baby grows and begins a feeding pattern, their sleep will be more consistent, restful and fit better with mom's normal schedule.
What's the best place for my baby to sleep?
Baby should always be put to sleep on their back in a crib, bassinet or pack 'n play. Never leave them sleeping on a sofa, bed or in their car seat (those are for the car only). If baby falls asleep in the car and you return home, they should be removed and put in their safe sleeping space. Babies should be placed in cribs with size-appropriate, temperature-appropriate clothing. No blankets, bumpers or toys should be in the sleeping area. Co-sleeping is strongly discouraged as it increases the risk of harm to baby.
Is my baby getting enough to eat?
You can tell if your baby is getting enough to eat based on what they are peeing and pooping. If you notice a decrease in wet or dirty diapers, I suggest calling your pediatrician for guidance.
How many diapers should we expect to change?
Three wet and/or dirty diapers per day for the first few days of life is an indicator of a well-fed and hydrated newborn. After the first week or so, you can expect around six wet and/or dirty diapers a day. I suggest using the newborn diapers with the line on the front to help monitor for wetness. This can help ease anxiety when trying to decide if baby has urinated or not, as the baby may only go a small amount that isn't really noticeable on the diaper.
As a new parent, it's easy to worry about even the slightest of changes in baby.
You should seek immediate medical attention if baby has:
A rectal temperature that is less than 97.5°F (36.4°C) or is 100.4°F (38°C) or higher. Call if you cannot take your baby's temperature but he or she seems hot.
No wet diapers for six hours.
Skin or whites of the eyes that get a brighter or deeper yellow.
Pus or red skin on or around the umbilical cord stump. These are signs of infection.
You should also watch closely for changes in your child's health, and be sure to contact your doctor if baby:
Is not having regular bowel movements based on his or her age.
Cries in an unusual way or for an unusual length of time.
Is rarely awake, does not wake for feedings, is very fussy, seems too tired to eat or is not interested in eating.
You should also call your provider if you have any other concerns about your baby--after all you know your baby best.

Do you have a quick question about labor, lactation or follow up care for you or your baby?
Call 757-312-BABY to talk with our experts or arrange a video visit. Visits are available Monday-Friday from 9am - 5pm and can be conducted from a computer, iPad, tablet or video-capable device.