You don't have to recover alone.
Recovering from a heart event can be difficult and scary, but a comprehensive, certified cardiac rehabilitation program can offer patients support throughout recovery and beyond.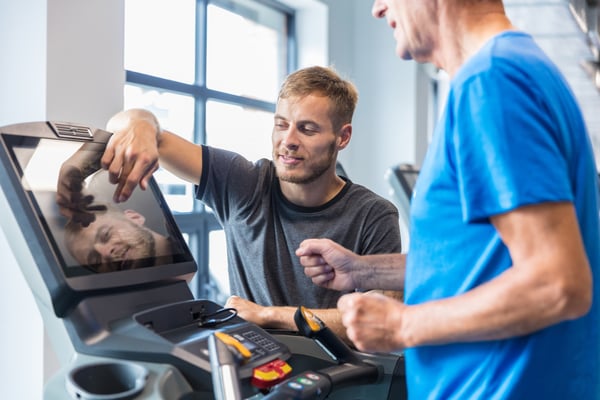 Most patients who have experienced either a heart attack, heart surgery or a heart procedure qualify for cardiac rehabilitation. Prescribed by a physician, this type of therapy has been proven to improve recuperation and longevity, as well as reduce illness for those who suffer from cardiac disease.
This type of rehabilitation is more than a gym session.
Not simply about exercise, cardiac rehab can help patients avoid a future event by promoting and supporting lifestyle changes.
Many patients think they can tackle recovery on their own, but participating in a cardiac rehab program puts them in touch with specially trained staff to provide them with knowledge and education to help promote recovery. This makes it a superior choice over attempting to exercise alone or going to a gym to see a personal trainer.
According to the American Colleges of Sports Medicine, "Cardiac rehab is commonly used to deliver exercise and lifestyle interventions and consists of coordinated, multifaceted intervention designed to reduce risk, foster healthy behaviors and compliance to these behaviors, reduce disability and promote an active lifestyle for patients with cardiovascular disease."
Sessions include group exercise and lifestyle advice.
Cardiac rehab typically includes three one-hour sessions per week, normally for 6-12 weeks. They consist of individually tailored exercises that take place in a group setting and are overseen by trained nurses, exercise physiologists, respiratory therapists and physicians. A comprehensive program, like ours, should be certified by the American Association of Cardiovascular and Pulmonary Rehabilitation and include staff that is also certified in Advanced Cardiovascular Life Support.
Corresponding educational lectures and individual sessions can include counseling about the following topics and beyond:
Cardiac medication
Heart disease management
Lifestyle modification
Nutrition improvement
Diabetes management
Stress

management
Smoking cessation
Staff members monitor each patient closely and communicate with their physician, should any health care-related issue arise.
The community aspect keeps patients engaged and inspired.
Perhaps most important is the team-building feature of cardiac rehabilitation. We see patients come together with their fellow group members to develop a friendly support system, no matter their age or gender.
Individuals change not just physically, but mentally as well. Many enter rehab feeling scared or defeated, but they leave with confidence, excited about what their future holds. They come in thinking they won't return to the life they had before, and leave with the ability to do more! A lot of patients tell us they never knew how fun rehab would be and how much goes into it. Not only are people improving longevity of life, but they are improving their quality of life!
Cardiac events can be scary, but this type of rehabilitation is about looking forward. For more information about cardiac rehabilitation, ask your cardiologist for a referral or contact a local cardiac rehabilitation program.
Rae Silkey, B.S., R.N., is Chesapeake Regional Healthcare's Cardiopulmonary Rehabilitation Program Coordinator. She is a certified Cardiopulmonary Rehabilitation Nurse and has been with Chesapeake Regional Healthcare since 2001 serving in several roles, including staff nurse.