The mission still continues.
Although the COVID-19 pandemic has brought the Bra-ha-ha® online this year, the mission continues! You can still design a bra that tells a story, shares an inspiration or simply shows your creativity. In this blog, we'll be working through a bra design being created for the 2020 Bra-ha-ha.
Making Your Bra
1. Come up with a concept.
Every great bra design starts with a great concept! We've heard of bras being designed with Illustrator, AutoCAD or even just pen and paper. If you're looking for ideas, check out this year's Bra-ha-ha list of categories.
2. Purchase a new 38C, back-closure, underwire bra.
All straps, front, back and sides of the bra should be completely decorated. Strapless bras will not be accepted. Our bra maker is using this bra from Amazon.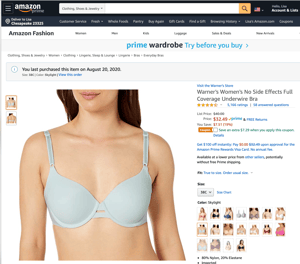 3. Purchase supplies.
Although not necessary, in light of the pandemic, you could order supplies online. If you do, make sure they'll arrive soon enough to decorate before the Oct. 14 drop-off deadline!
4. Plan the steps to accomplish the desired design.
Set out your bra and supplies. It's like cooking with a variety of ingredients and deciding what should happen first, second and so on. Then begin creating the bra by adding each essential element one by one.
5. Ensure the bra is structurally sound.
Although every bra is different, our bra maker recommends ensuring the stability of the finished piece by trying it on a mannequin. Remember, if your bra wins, it will be worn by a model! The zip ties inserted into this carved foam will also be inserted into the bra for durability.
Although there are a variety of ways to attach items to a bra, they need to be light enough to not add unnecessary weight.
Our bra maker is also adding a fiberglass coating to ensure that her bra is strong enough to hold all her decorative materials.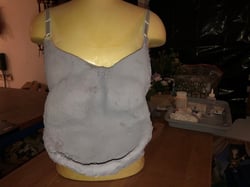 6. Begin decorating the bra!
Now the fun begins! Decorate your bra according to your original vision. If you need to make changes, it's ok. Just remember that the Bra-ha-ha exists to ensure under- and uninsured people in our community receive mammograms and vital breast health services.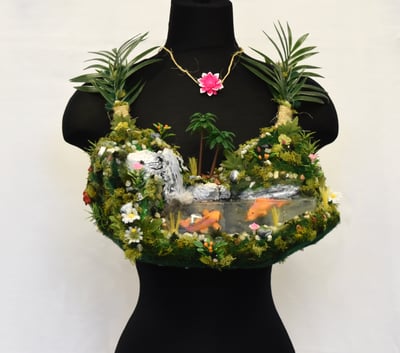 7. Submit the bra.
8. Bring the completed bra to Chesapeake Regional.
Drop off your finished bra art to the Lifestyle Health & Fitness Center (800 Battlefield Blvd., North), located on the Chesapeake Regional Medical Center campus on Oct. 12 3-6pm or Oct. 13 and 14 Noon-6pm.
9. Watch the Awards Show.
Since the 2020 Bra-ha-ha is virtual, a link to the awards show will be added to Facebook on Friday, October 23. The show will feature a fashion show with the winning bras, each one modeled by a breast cancer survivor. With the link you'll be able to see the winner of each category and see the $1,000 grand prize winner!
10. & 11. Attend the Bra Art Exhibit and Bid on Auction Items
Bra art will be displayed at Dillard's Greenbrier Mall from Oct. 23 – Nov. 1, and in center court at Lynnhaven Mall from Nov. 3 - Nov. 10. Our Bra-ha-ha Silent Auction will be virtual and open to the public too. As always, there will be amazing themed baskets, trips, experiences, original artwork, gift cards and more. Online bidding runs from Oct. 23 – Nov. 10.
The Bra-ha-ha® is Seriously Uplifting and a one-of-a-kind fundraising experience that celebrates survivorship and artistry. With a 38-C bra as their canvas, interested community members are challenged to construct unique and over-the-top designs using breast cancer as inspiration.