Get help, sooner. ​
Patients who are experiencing the symptoms of coronary artery disease no longer have to wade through additional appointments and inconvenient tests to get a precise diagnosis and treatment plan.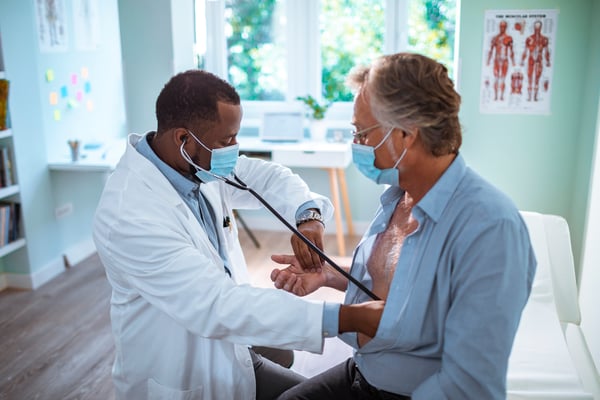 Heartflow can rapidly provide more accurate answers in less time.
Coronary artery disease (CAD) is the most common blood vessel disease in adults. The coronary arteries supply the heart with oxygen and nutrients, but they can get blocked by cholesterol-based deposits called plaque. CAD is considered present when this plaque slows down the essential function of these arteries, sometimes blocking them all together.
Do you have the symptoms of Coronary Artery Disease?
CAD develops over time, so you may not be aware that you have it until you experience a heart attack or major blockage. However, the following signs and symptoms should prompt you to seek immediate medical care:
Neck, jaw, shoulder, upper back or abdominal discomfort
Indigestion
Chest pain or pressure
Shortness of breath
Ongoing pain or discomfort in one or both arms
Nausea, lightheadedness or "cold sweats"​
If your doctor feels you may be suffering from CAD, he or she will order a cardiac CT scan, which provides a very detailed view of your heart and its surrounding blood vessels.
Skip unnecessary testing and get straight to individualized treatment.
Traditionally, if the scan had shown any blockages or areas of concern, more tests, like a stress test, SPECT stress test or ECHO, would have been ordered. Patients had to risk waiting for more appointments, and possibly endure additional invasive testing to get answers.

"I've seen first-hand how difficult it has been to diagnose CAD in patients with past approaches, " said Dr. Neil Green, Dominion Radiology Associate's physician director of cardiac CT at Chesapeake Regional Healthcare. "Now, using Heartflow's personalized 3D coronary analysis, physicians can review the images of the heart and provide an instant diagnosis and tailored treatment."

Heartflow, which is only available at the nation's top heart hospitals, uses the already-acquired CT scan images—so no additional appointments or discomfort are required of patients. The information from your CT scan appointment is populated to include these findings.
What's next after CAD diagnosis?
Treatments for CAD can range from conservative, such as medication management and lifestyle changes, to revascularization—which can include a stent or bypass surgery.
Heartflow is a faster, safer, more accurate and less invasive way to determine treatment options for cardiac patients.
Patients who have symptoms of coronary artery disease are eager for quick and accurate answers. They want to know if they have a clogged artery in their heart and they don't want layers of testing or unnecessary invasive testing that comes with risk in order to find out. We finally have a single test that is safe, non-invasive, rapid and accurate. Physicians can now use the detailed Heartflow analysis to better care for their patients and to provide the answers they seek," added Green.
Dr. Neil B. Green is a cardiac radiologist who practices with Dominion Radiology Associates, LLC at Chesapeake Regional Healthcare, where he serves as physician director of cardiac CT and PET imaging​. He received his medical degree from Baylor College of Medicine in Houston, Texas. He completed his radiology residency and a fellowship in nuclear medicine at the University of Miami/Jackson Memorial Hospital in Miami, Fl. He is excited to be part of the cutting-edge cardiac diagnostic offerings at Chesapeake Regional Healthcare, which is the first and only system in the region to offer Heartflow.​