Hydration is of utmost importance now that the summer months are underway.
Infused water is water in which fresh fruit, fragrant herbs, raw veggies and/or spices has been steeped. Infused water is a wonderful and refreshing way to stay hydrated during the summer months and beyond.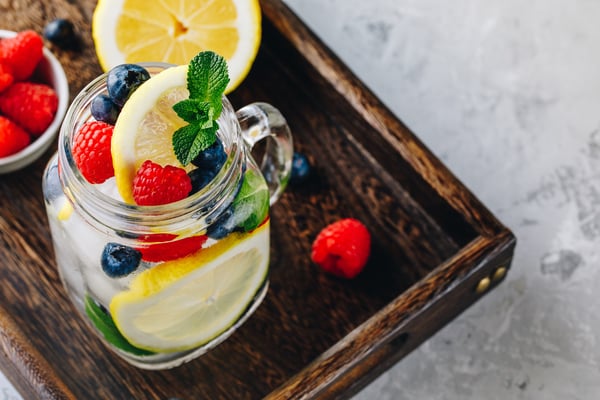 Infused water can be a healthy and new way to mix things up, especially if you're not a fan of plain water. Not to mention, infused water is a healthier alternative to soda and juices, which usually contain a lot of added sugar and can lead to dehydration. Fruit juice and coffee are fine in moderation. For fruit juice, try to stick to recommended servings (1 ½ cups for adults and less than this for anyone younger than 18 years old). Also remember to choose 100 percent fruit juice and consider watering your juice down if it's not 100 percent. When it comes to coffee, keep in mind that drinking more than 200-300 mg of caffeinated coffee (~2 to 3 cups) has been shown to lead to dehydration.
Below are some infused water ingredient ideas and combinations worth trying. A general rule of thumb is to experiment and have fun with infusing your water! Choose ingredients you enjoy and try new things you haven't tried before.
Fruit
Citrus: grapefruit, lemon, lemon, lime, orange, tangerines
Berries: strawberries, raspberries, blueberries, blackberries, cherries
Tropical: pear, pomegranate, mango, pineapple, banana, kiwi, starfruit
Melons: honeydew, cantaloupe, watermelon
Other: apples, grapes, plums, peaches, nectarines
Vegetables
Cucumber
Carrots
Celery
Peppers (hot or sweet)
Herbs
Mint
Sage
Rosemary
Basil
Cilantro
Thyme
Lavender
Spices
Ginger
Cinnamon stick (ground cinnamon will float)
Black pepper
Water
Filtered water
Sparkling water
Plain water
Instructions for making infused water
Making infused water is incredibly easy. In a large pitcher, place the desired combination of fruit, vegetables and or herbs. Add ice and fill container with water. Add additional fruit or herbs to garnish, if desired.
Tips for infused water
Use a wooden spoon (or ideally a muddler) to slightly mash and break down the fruit/vegetables.
Peel the citrus fruits from their skin to avoid a bitter taste.
Gently bruise your choice of herb/spice (i.e. gently mashing). This helps release the natural extracts and oils.
Infused water can be stored in airtight glasses, mason jars, glass pitcher, water bottle, gallon jug, etc.
Infused water is best when kept in the refrigerator for up to a week or until the flavor is no longer present, in which case you may add more infusions.
When on the go, keep your infused water in an insulated reusable bottle to reduce plastic waste.
Infused Water Recipe Ideas
Grapefruit + sage/rosemary/mint/basil
Lemon + mint/cilantro/basil
Lemon + ginger
Lemon + orange + ginger
Cucumber + lemon + lime + mint/basil
Cucumber + watermelon + mint
Carrots + apple + lemon + ginger
Honeydew + cantaloupe + watermelon + sage/mint
Watermelon + mint/rosemary/basil
Pear + rosemary/sage
Blackberries + raspberries + strawberries + mint
Strawberries + grapefruit + sage
Apple + plum + blueberries + mint/sage
Cherries + lime + mint
If you have kidney disease, speak to your doctor first before drinking infused water.
Keyla Sifre is an inpatient Clinical Dietitian at Aramark Healthcare and Chesapeake Regional Healthcare.