Joy Butler went sky diving this year
But two years ago, that wasn't an option for the native of Carrsville, Va. At age 39, she had reached an all-time-low with an all-time-high weight of 413 pounds. She suffered from sleep apnea and was taking six different medications. She was diagnosed with fatty liver disease and often could not walk for more than 15 minutes at a time.
"I was as miserable as one could be," says Joy. "I was 39-years-old and was unable to walk without a shopping cart to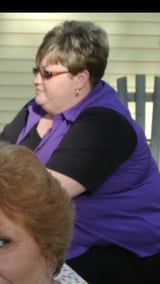 lean on. Many times I would have my groceries loaded into the car and sit and cry from the pain and disappointment with what my life had become."
She had tried every diet out there, finding some success with Weight Watchers and exercise, but ultimately gained the weight back plus more. For many years, Joy desired to have gastric bypass surgery, but her insurance would not cover it. Finally, she decided to take action.
"Once I hit my rock bottom, I decided enough was enough. I made the decision to pay for the surgery on my own," she says. "My health problems alone were enough to take my life. So I knew that if I didn't do something soon, I would die."
With the decision made, Joy attended a Weight Loss Information Session at Chesapeake Regional Healthcare. There, she heard from one of the weight loss surgeons along with a patient who had been through the surgery. It confirmed that this was the right decision for her. Dr. Glen Moore performed Joy's surgery in 2015.
"After my first appointment with Dr. Moore, I was impressed with how he genuinely cared about his patients and he didn't make me feel bad about my weight. He truly wanted to help me have the healthy life I deserved," Joy says.
Joy remained committed to improving her life even through the hard work post-operation. She exercised, followed the eating guidelines and saw results. It's been two years, and she continues to exercise five days a week, doing cardio and strength training after work. She was taken off all of her medications and no longer suffers from sleep apnea. In fact, she has lost a total of 230 pounds.
Joy after surgery. She's lost 230 pounds!
"The best moments for me since surgery have been the ability to simply enjoy life. I can walk without pain, cross my legs, sit in the car without the touching the steering wheel, ride a roller coaster, fit comfortably in the seats at the movie theater and so much more. I now have self-confidence," says Joy.
Joy continues to work hard to maintain her weight. She comes to the monthly support groups at CRH and even mentors new patients in the program. She encourages them to see this surgery as a tool.
"From the first interaction I had with this program at the informational seminar, to the last pre-op appointment, I felt thoroughly informed from start to finish on what to expect. It gave me the tool I needed to finally be in control of what I ate and how much; gastric bypass gave me my life back," says Joy.
And she is committed to fully living out that life. Whether sky diving or shopping, Joy is, well, joyful in her ability to do the things she once thought would be impossible for her to accomplish.
"The best thing for me since having this surgery is the ability to live life again instead of watching it pass me by," she says. "Weight loss surgery was the best decision of my life; I would do it again in a heartbeat."
Click here to sign up for a free Weight Loss Surgery Informational Seminar at Chesapeake Regional Healthcare or click here to learn more about this nationally accredited program.
Melissa Mounie is the bariatric and metabolic program coordinator at Chesapeake Regional Healthcare. You can give her a call at 757-312-3000.