Chesapeake Regional Healthcare relaunched its public-facing website on Friday, January 4. This website integrates our Find a Doctor tool and primary website into one, improving access and search functionality on any device. We built the site with "mobile-first" in mind. Because of this, the site should be enjoyable to use on phones and tablets. Finally, the site strives to meet the AA standard of the Web Content Accessibility Guidelines, meaning we can provide better information to people with certain disabilities.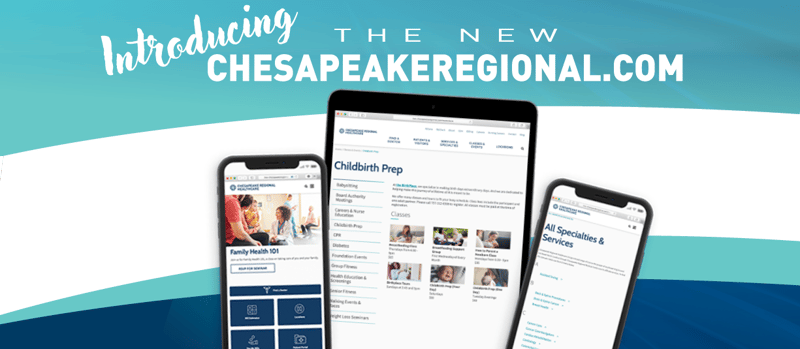 Frequently Asked Questions
Why do we have a new website?
ChesapeakeRegional.com is a new web experience that puts you first. Our website is the digital front door to Chesapeake Regional – often the first place people like you look for medical information and services. Our driving question behind the new website was, "How can we serve you?"
We wanted to focus on five key uses of our website:
Accessing Medical Records
Finding a Provider
Estimating Cost of Care
Finding a Location for Care
Paying Bills
If you have questions about how your online information is being used, visit our Privacy Policy.
How can I access my medical records?
Chesapeake Regional has two Electronic Health Records Systems, MyChart and Athena. If you have received care at one of our facilities, or from one of our providers, you should have received a welcome email from your system. If you need to learn more about which EHR to use, please visit this page.
How can I find a provider?
Our Find a Doctor tool was built from the ground up to help you find a provider. Search by gender, specialty, language or location to identify the best provider for you.
Visit our Find a Doctor tool.
Can I estimate my cost of care?
Yes! We have built a bill estimator that you can explore to learn more about our pricing. In three easy steps, get an up-to-date estimate of costs (deductible, co-insurance and co-pay), customized to your health insurance and the services you selected. If you have an insurance policy, please have your insurance company, Group Plan Number and ID Number available.
How do I find a Chesapeake Regional location?
Our care extends far beyond Chesapeake into Virginia Beach, Suffolk and northeastern North Carolina. We offer a variety of services at many locations to help best serve you and your family. You can find a location near you by visiting our Locations page.
How do I pay a bill?
You can pay your bill by visiting our online tool: Pay Your Bill
Can I access the new website on my phone?
Yes! All content works on your device of choice whether a desktop computer, tablet or smart phone.
What browser should I use?
We suggest using Google Chrome, Safari and Internet Explorer 11. Although, you should be able to use Firefox as well.
Is the site secure?
Yes! Supported browsers will give you a message box stating when you are going into a secure session. When the lock icon is solid (i.e., unbroken), the session is secure. Another indication that your browser is operating in secure mode can be found in the website address. The address will begin with (http:) in standard, non-secure mode and with (https:) in secure mode. The 's' in 'https' stands for secure.
I want to learn more about how to keep my family and I healthy. How do I do that?
You can visit and subscribe to our blog, Health Matters.
For Employees and Physicians
Where is my employee portal?
The best way to access information for employees is in the footer of our website.
The best place for providers to access information is by using the For Physicians link under Patients & Visitors.
How can I access my email?
If you are looking for a way to access your Chesapeake Regional email, see the For Employees section in the footer or follow this link.