Virginia is in the Diabetes Belt
In the U.S., 644 counties in 15 states have the highest incidence of Type 2 Diabetes. Our area has been specifically identified as having a high incidence of diabetes. Right here is where diabetes care and prevention is most needed. Obesity and a sedentary lifestyle are two of the four major contributing factors to the increased incidence of diabetes.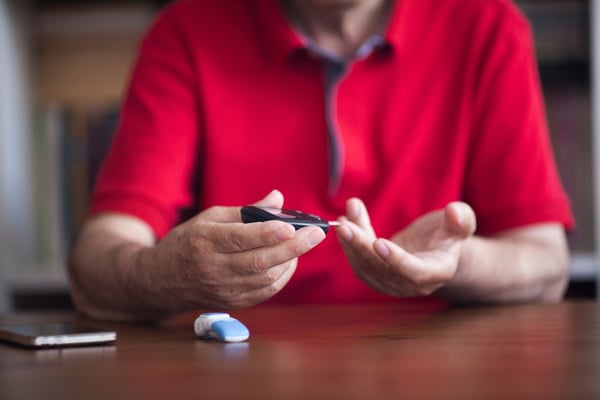 What is Diabetes?
Diabetes is a group of diseases characterized by high levels of blood glucose resulting from defects in insulin production, insulin action, or both. Diabetes can be associated with serious complications and premature death, but people with diabetes can take steps to control the disease and lower the risk of complications.
For most people, there are lifestyle choices that can be controlled through education and well-thought-out exercise and diet plans. In addition to lifestyle changes, learning more about the various kinds of diabetes can help you determine the best course of action.
Type 1 Diabetes
Previously called insulin-dependent diabetes mellitus (IDDM) or juvenile onset diabetes, Type 1 diabetes develops when the body's immune system destroys pancreatic beta cells, the only cells in the body that make the hormone insulin that regulates blood glucose. This form of diabetes usually strikes children and young adults, although disease onset can occur at any age.
Type 2 Diabetes
Previously called non-insulin-dependent diabetes mellitus (NIDDM) or adult onset diabetes, Type 2 diabetes may account for about 90-95 percent of all diagnosed cases of diabetes. It usually begins as insulin resistance, a disorder in which the cells do not use insulin properly. As the need for insulin rises, the pancreas gradually loses its ability to produce insulin. Type 2 diabetes is associated with older age, obesity, family history of diabetes, history of gestational diabetes, impaired glucose metabolism, physical inactivity, and race/ethnicity.
Gestational Diabetes
This is a form of glucose intolerance that is diagnosed in some women during pregnancy. Gestational diabetes occurs more frequently among African Americans, Hispanic/Latino Americans, and American Indians. It is also more common among obese women and women with a family history of diabetes. During pregnancy, gestational diabetes requires treatment to normalize maternal blood glucose levels to avoid complications in the infant.
To help you learn how to manage your diabetes, we offer individual counseling for adults and children with certified diabetes nurse educators and dietitians, group diabetes education classes called "Diabetes University" and carbohydrate counting classes. To enroll, your medical provider must fax a referral, or you may contact us yourself. Participation will require a written referral from your medical provider and this program is usually covered by insurance.
Terry Lumber, RN, CNS, MSN, CDE, BC-ADM, FAADE, is the diabetes and nutrition coordinator at Chesapeake Regional Medical Healthcare's Lifestyle Health & Fitness Center.