Add colorful vegetables to your plate
Spring is a great time to take advantage of the colorful vegetables in season this time of year. Add them to your plate, they pack a healthy punch of nutrients and fiber your body needs. Try the salad and dressing combination below as a fresh springtime meal.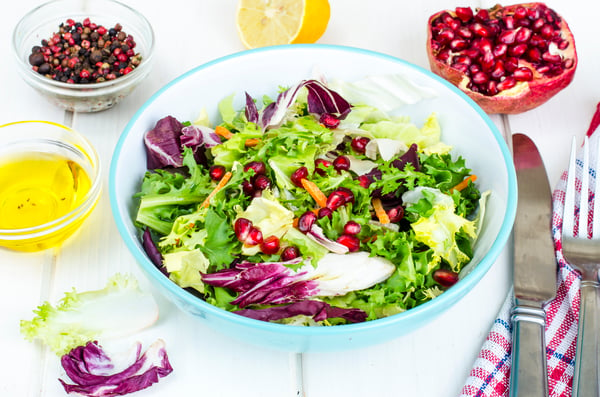 Watercress Salad with Sesame-Garlic Dressing Avocados, radishes and scallions top this water-cress and radicchio salad with a fish-sauce-spiked dressing to make a vibrant spring salad. Consider shaking up some extra dressing to toss with your salads throughout the week.
Ingredients
4 cups trimmed watercress or arugula (about 4 oz.)
4 large hard boiled eggs – cut in half
2 cups torn radicchio (1-inch pieces)
1 small avocado, cut into bite-size pieces
1 cup sliced radishes
½ cup thinly sliced spring onions or scallions
2 tablespoons fresh lime juice
1 tablespoon fish sauce
1 tablespoon packed brown sugar
2 teaspoons minced fresh jalapeño
2 teaspoons minced garlic
2 teaspoons toasted sesame oil
2 teaspoons toasted sesame seeds (optional)
Directions
Combine watercress (or arugula), radicchio, avocado, radishes and onions (or scallions) in a salad bowl.
Add the eggs. Combine lime juice, fish sauce, brown sugar, jalapeno, garlic and oil in a jar. Cover and shake to combine.
Pour the dressing over the salad and gently toss to combine.
Garnish with toasted sesame seeds, if desired.
Lisa Anderson, MS, RD, CNSC is the Clinical Nutrition Manager at Aramark Healthcare and Chesapeake Regional Healthcare.