A subspeciality of radiology
Many patients are surprised to learn that there are more facets to radiology than diagnostics. Interventional Radiology (IR) is a subspecialty of radiology in which physicians perform image-guided, minimally invasive procedures, which often replace the need for surgery.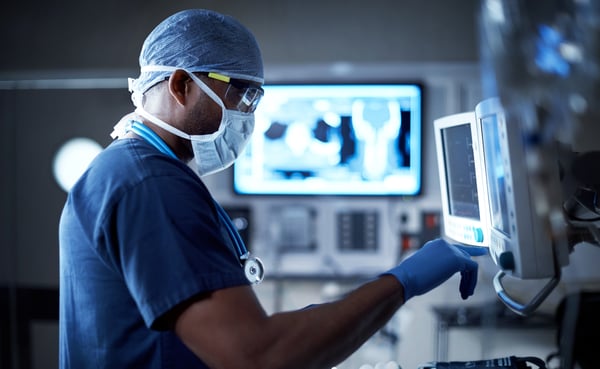 How image-guided, minimally invasive procedures work
IR procedures are performed through a small nick in the skin while the patient is consciously sedated, thus eliminating the risks of general anesthesia and long surgical operations.
They are accomplished in an IR suite, essentially a minimally invasive operating room, equipped with X-ray fluoroscopy, computed tomography (CT), ultrasound, and in some cases, magnetic resonance imaging (MRI). These machines guide us to see the inside of the body on a screen as we insert catheters and wires through this very small incision into arteries, blood vessels and organs to remove blockages, stop bleeding, treat tumors and abnormal blood vessels, fix collapsed spinal bones, drain fluid and more.
An alternative to surgery
In comparison to conventional surgeries, IR procedures offer a significantly lower risk of bleeding, infection and damage to adjacent organs. Recovery times are also much faster, as patients often go home the same day. And all of this is provided at a lower cost than surgical operations.
Some procedures offered in our IR suite
Uterine fibroid embolization
During this procedure we can reduce blood flow, via embolization, to bothersome uterine tumors. Learn more about Uterine Fibroid Embolization at Chesapeake Regional.
Vertebroplasty
We can use image-guided technology to inject bone cement into the vertebrae to stabilize injured back bones and relieve pain.
Epidural steroid injection (ESI)
This procedure is used to inject directly targeted steroids into the back to relieve pain.
Nephrostomy
This technology allows us to place a drainage catheter into kidneys to improve function and reduce pain caused by kidney stones.
Biliary drainage
During this procedure we can place a drainage catheter into the liver to bypass blocked bile ducts and improve function.
GI Bleeding/Trauma
We can use image-guided technology to place a catheter into the arteries of bleeding organs to inject materials to stop bleeding.
Make an appointment to get more information about interventional radiology
The field is ever-expanding and now encompasses all specialties of medicine. In addition to attending a four-year medical school, interventional radiologists complete a four-year residency in diagnostic and interventional radiology, as well as a one-year fellowship in IR. Many go on to get more training in IR sub-specialty areas.
Before undergoing any procedure to improve your health, it is important to investigate all your options. IR may offer alternatives for your health condition. Be sure to ask your referring physician if an appointment with an interventional radiologist is right for you. Many interventional radiologists, like those in our group, can also be contacted directly for patient consultations.
Victor Lewis III, MD, is a board-certified radiologist and the director of interventional radiology at Chesapeake Regional Medical Center. He also serves as the director of Chesapeake Regional's Uterine Fibroid Center of Excellence and has completed more UFE procedures than any physician in the region.