While this kind of altruism is truly rewarding, caretakers of cancer patients can often pay a personal price.
Prioritizing yourself during this unpredictable time is just as important as putting your loved one first. Here are a few guidelines to live by while preparing to be a caregiver.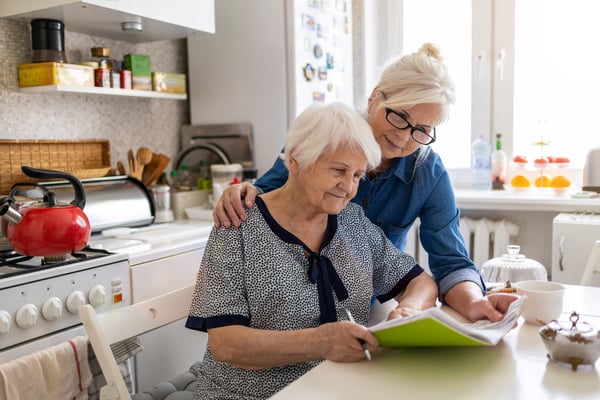 1. Get organized.
Caregivers are often surprised about how time-consuming cancer care can be. Treatments alone can require daily upkeep. Radiation requires patients to come in daily, while chemotherapy schedules can vary. Follow-up screenings, appointments, medication and supply runs can also keep caregivers quite busy. Get a planner or use the calendar app on your phone. Be sure to write down each medical appointment, as well as all pertinent information, like the name of the provider and the type of the appointment. You'd be surprised how quickly those appointments can blend together. Staying organized can keep you ready for anything that comes your way.
2. Balance is key.
Often when people become caregivers, they make their loved one their top priority and neglect their own self-care without even noticing it. You cannot pour into someone else's cup if yours is empty. Schedule your own doctor appointments, spa appointments, time to exercise and 'me time' in the calendar as well.
3. Get help on your side.
Ask your oncologist or cancer center if their practice has a social worker or navigator. If so, schedule an appointment to discuss available resources. Often there are people already in place to help you with logistics, such as transportation, insurance, and finances, as well as emotional support, like counseling and therapy. The benefits available are endless, and a navigator or social worker can connect you to the resources most tailored to your individual situation. It may take a bit of advocacy, but you are not alone in this. There is help for you and your loved one.
​4. Be honest.
This applies to your loved one and yourself. Be honest about what you can and cannot do. Proper caregiving requires balance. Begin your journey by devoting yourself to the tasks you can conquer emotionally and physically. There are resources, from transportation to companionship services, for those tasks you cannot. Enlist the help of friends and family as well. Often, other loved ones will jump at the chance to help but are waiting on you to give them a starting point.

Being a caregiver for a cancer patient is a noble, but overwhelming role. A combination of preparation and self-care will allow you to be the best caregiver you can be.
Nikol Downing is the Oncology Program Navigator at Chesapeake Regional Healthcare's Priority Toyota Cancer Center. She is a Licensed Clinical Social Worker and holds a bachelor's degree in social work and psychology, as well as a master's degree in social work.​ She provides logistical and emotional support for both inpatient and outpatients at the center, as well as patients of Virginia Oncology Associates. She has a breadth of experience in medical social work and has been with Chesapeake Regional Healthcare since 2018.