Get back in the game with an athletic trainer
An athletic trainer is a licensed or certified health care professional who collaborates with physicians and other medical staff to treat all types of people of various ages. Athletic trainers work with a variety of sports teams, as well as in hospitals, clinics, the military, schools and rehabilitation centers. They help patients prevent, treat and diagnose injuries during sports and physical activity.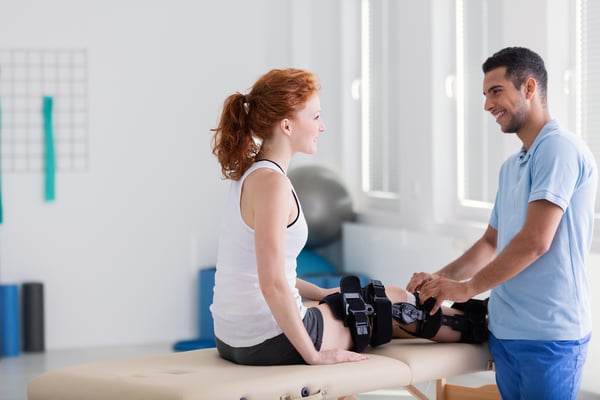 Athletic trainers should not be confused with a personal or fitness trainer. Although the titles might be similar, their focus and education are different. Personal and fitness trainers lead exercises and workout routines to help the general public improve their level of fitness, while athletic trainers are concerned about the medical aspects of physical training and athletic activities.
A certified athletic trainer must have a bachelor's or master's degree in athletic training, exercise science, or a related area, and pass a comprehensive exam before earning the ATC credential. They keep their knowledge and skills current by participating in continuing education and must adhere to standards of professional practice set by a national certifying agency.
What is the referral process?
Most athletes in a school setting have direct access to the athletic trainer. At a sporting event, the athletic trainer is the first to arrive on the scene if an injury occurs. The AT assesses the injury, recognizes any issues and makes recommendations for appropriate care and advice.
In an outpatient clinic, hospital or rehabilitation center, the athletic trainer needs a referral from a physician.
Who should see an athletic trainer?
Injuries can happen at any time. The key to getting back to the game or activity after an injury is allowing time for your body to heal and following the recommendations of your doctor and athletic trainer. Whether it's someone training for a recreational activity, a high school student wanting to return to their sport or a pro athlete wanting to bring their team to victory, an athletic trainer can help.
Kelley Lucy has been a licensed as a physical therapist for 24 years and certified as an athletic trainer for 27 years. For the last 21 years, she has worked at Chesapeake Regional Medical Center's Rehabilitation Services Department.